Dr Eri's original 'E-Special' and other Cosmetic Products
E-Special, and other doctor`s cosmetics
Home skin care support by Dr. Eri's method!
To care for sensitive skin after treatment, in addition to the high quality skin care product line E Special that could be used at house, which was researched and developed by Dr. Eri, we also provide Cosmetic products recommended to use at the clinic.
These products can also be purchased online at Bijin Seizo Research Institute of Dr Eri.
E Special Basic Care
This is a line of cosmetic medicine that was researched and developed by Dr. Eri from her skin restoration experience.
The basic skincare range helps nourish the skin and repair all skin problems based on proper cleansing and moisturizing principles.
Highly effective skin care with simple steps including 4 products and special mask.
Almost non-irritating, fragrance free, alcohol free, recommended for all skin types.
E-special is not only favored by clients but also models and actresses introduced in women's magazines.
No need to wash your face twice!
Cleansing Gel V 
For dewy skin
Moisture Lotion V 
Gel essence
Moisture Gel V 
Leaves skin firm from within!
Active Cream V 
Rescue rough skin!
Beauty White Mask
Trial set consists of 4 basic products
Trial Set
E Special Basic Care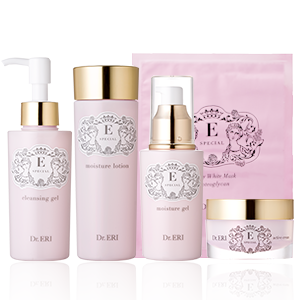 E Special Active Renew
This is a line of cosmetic medicine that was researched and developed by Dr. Eri from her skin restoration experience.
Active Renew is a product developed to combine, enhance the basic skin care of the E Special line, to improve the quality of the skin better.
Two exfoliating products and eyelash serum products are very easy to use.
Toneup UV 
With just one step, you can replace the foundation cream with a light tone and help protect the skin from the effects of ultraviolet rays.Creamy yellow products are easy to use, help skin become shiny and transparent.
SPF35、PA++、nonchemical (Do not use ultraviolet absorbers)
Mild Doctor Peel 
A simple beauty ingredient including hyaluronic acid and botanical extracts.
Exfoliating serum after using lotion can regain smooth skin without rinsing with water.
Mild Doctor Peel α 
The gel-like product does not contain bleach like acid but gently cleanses dead skin cells.
Use weak electrostatic force to remove dead skin cells and dull skin.
Care for the skin of the neck, eye, and collarbone.
Premium Eye & Lash Serum 
Premium Eye & Lash Serum helps to reduce the appearance of fine lines and wrinkles.
Mascara type eyelash serum with 3 effect hit record sales have returned since the fall of 2012!
While exhibiting the three major effects of hair growth, moisture retention and protection, aging care effect is also added.
It has evolved as "premium eye & rush serum".
Serum that evolved into hair growth, moisturizing, protection, aging care and premium eye care from all directions.
Launches eye care products for all modern women.
Doctor Eye Stretch Serum 
Take care of small wrinkles caused by dry skin and drooping skin around the eyes.
The anti-aging nourishing essence helps to stretch the skin to 5mm, making eyes 5 years younger.
E Special Active Renew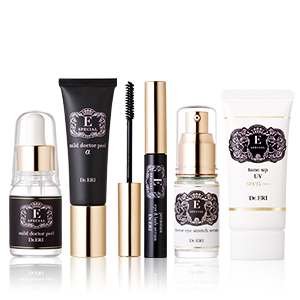 E Special Beauty Cell Technology
Promote skin regeneration from the cellular level!
Cosmetic line originated from human dental pulp stem cells with high efficiency and safety.
"E-Special Beauty Cell Technology Line" combines high supernatant liquid cultured from "human milk tooth stem cell" with extremely high cell regeneration function, which helps to "optimize skin care."
Culture supernatant contains abundant growth factors (cytokines) of 100 kinds or more, and it leads to "unrivaled beauty skin" which is fine in texture and results in inconspicuous pores.
Dr. Eri has found that stem cell sources have good quality and high safety in human milk teeth.
The perfect combination of the first stem cell research institute, which owns the first-in-country pulp cell bank with a cosmetic clinic, offers stem cell-derived culture services of excellent quality.
Please enjoy "leading edge home care"
Beauty Cell Technology Mask[20ml x 1 pack] 
E Special Beauty Cell Technology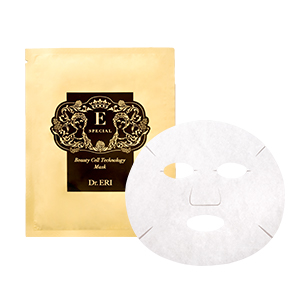 Hair care line and body care line
Provide essential and effective ingredients that keep you out of trouble.
Hair care line and body care apply anti-aging technology that has been studied for a long time.
Hair and body treatments use the secret of anti aging on the face.
Over the years, Dr. Eri has been researching and providing solutions to all problems not just on the face but also other areas like weight loss, body toning, uneven skin color, rough weak hair, hair loss …
From the point of view that all skin problems are related to the care of surface skin, doctor Eri has developed a 3-step total care: exfoliating, toning, anti aging.
The good hair stems from a healthy scalp. We provide products that contain a number of well-known and well-selected ingredients.
Not only takes care the scalp but also effectively recovers damaged hair.
This product is non-irritating, odorless, suitable for all scalp types.
Doctor Peel Body 
Triple Meso Cocktail combines 3 effects in one product.
Multi-functional body cream for modern women, helping to improve all skin problems with more than 40 kinds of beauty care.
Hair care line and body care line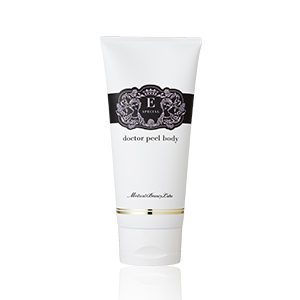 Sunsorit
Sunsorit is a product that has been studied by doctors for many years.
Product containing AHA Glycolic acid is less irritating, just washing face gently can also help remove dead skin cells, sebum, dirt in the pores, uneven skin color …
Can be used for the body, is the preferred product which has sold more than 2.5 million products up to the present time.
Contains 2% glycolic acid.
Recommended to improve acne!
Skin peel bar tea tree 2% (red) 
Exfoliating gently contains 1% glucolic acid
Skin peel bar AHA 1% (green)
Sunsorit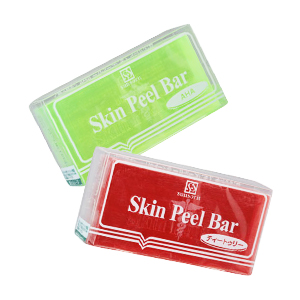 Helio Care 360°
Helio Care 360 ​​° sunblock – a new product from Spain's "Heliocare" brand known for its oral sunscreen!
・SPF 50 is UVA, UVB blocker, which helps prevent sunlight and infrared rays from going deeper and causing skin damage.
・Contains no ultraviolet absorber.Does not contain chemicals, can be used for both baby and sensitive skin.
・Can also be used as foundation when makeup.
Water proof
・Contains natural extracts from ferns also present in oral sunscreen.
・Contains ferulic acid, caffeic acid, green tea extract, vitamin C and E
・Anti-aging effect to protect the skin from oxidation due to sunlight.
・Protective effect of DNA (prevention of skin cancer)
・The SPF value is equivalent to 64
・The PA value is equivalent to +++ (3 plus)
・Capacity: 50ml
Helio Care 360°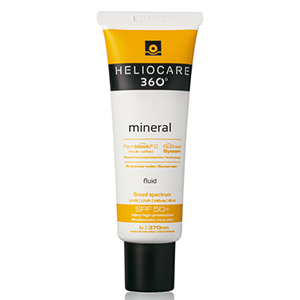 Jane Iredale
Jane mineral makeup ・ Iredale is a makeup product that works to nourish the skin while regulating the uneven tone of the skin.
All products contain microcrystalline mineral powder and do not contain any chemical dyes or preservatives.
It has a skin-protecting effect, giving it a natural finish.
Helps to perfect make-up.
Foundation cream with high coverage
SPF20 base color includes 3 beautiful colors
Jane Iredale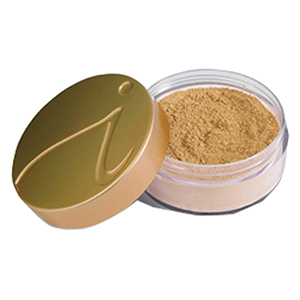 LusciousLips
Exclusive medical product!
Lip gloss that improves fine lines around lips and lips, which contains patented peptide & marine collagen, hyaluronic acid, moisturizing oil etc. with high anti-aging effect.
It gives elasticity and leads to a plump smooth lip.
Adjusting the lip color easily by tightening lips, lip contour is also prominently displayed.
Combined with hyaluronic acid injection to help lips more full.
Here are four colors that are popular and easy to use carefully selected by Dr. Eri !
Available in all four colors 
322 Clear Twinkle Winkle
323 Brown system Bronze Goddess
325 Pale Pink Petal Rebel
327 Red series Showstopper
LusciousLips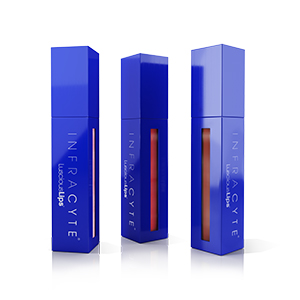 ZO SKIN HEALTH Daily PD
Exclusive to medical institutions!
Anti-aging serum containing retinol supports the ability to give firmness to the skin, and while gently caring for the skin, leads to beautiful and healthy skin.
Encapsulated "vitamin E" targets oxidative reactions.
By protecting the skin from irritation and dryness of the outside air and filling it with moisture, it enhances the ability to prevent skin problems.
ZO SKIN HEALTH Daily PD