"Heart-shaped face" to be realized by the newest unique injection way
Dr. Eri's method True Lift
To the clear sharp feature having modeling by drawing up the base of the whole of the face!
Dr. Eri`s Hyaluronic Acid Injection therapy results in the impression on the look can be built into the beauty to be solidness at as natural with a modulation sense.
Dr. Eri will ascertain "the build = the feature" of the individual of the patient, assuming the aging part which will occur in the future also, and then injects the quantity appropriately to the appropriate part.
Eri Clinic Omotesando has started for the first time providing this unique filler therapy by focusing on the build of the patients as "Beautiful Facial Frame"

"Dr. Eri`s True Lift", the newest advanced therapy, is the injection way to focus on the face ligamental in addition to the build of the patient.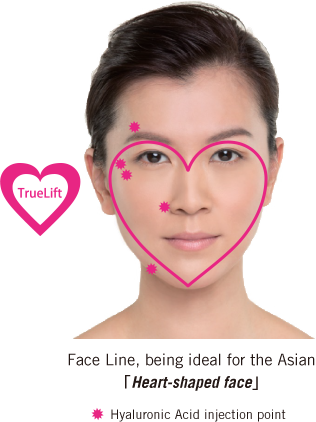 The ligamental of the face, having the role which keeps skin at the bone like a hammock and becoming weak with the aging, leads to the cause of the wrinkle and the sagging when the ligamental of the face hangs.

Dr. Eri, after ascertaining the build of the patient by the inspection and the palpation, reinforces a becoming weak ligamental by exploring the ligamental ( the eye socket ligamental – the buccal-region ligamental – the upper jaw cheek ligamental – the jowl ligamental ) is in the face, injects Hyaluronic Acid medicine "Restlylaine with Lidocaine" manufactured by Galderma Inc. into the most appropriate point and pushes up a suspension part.
It leads to the clearly sharp feature where the base of the whole of the face goes up with modelling. By adding a injection to the other part such as the bottom and the ridge of the nose, and the chin of the eyes, the perfect feature will be realized without invasive surgery.
"Dr. Eri`s True Lift" is recommended to the concerns as follows;
The reduction of the tension of the skin appears than before
Feeling eye origin slacking
Feeling of zygoma position`s falling
Smile line to be cleared
Seems to be tired somewhat
Becoming difficult to do the makeup of the eyebrow
Unigonorable slack of the face line
Be relieved for the person of the first experience!
The injecting technical power of Dr. Eri Katagiri, who has had more than 150,000 Hyaluronic Acid Injection cases domestically as well as internationally was recognized and then she has received the special authorized title of "Experienced Injector" as well as Certified Trainer" from Galderma Inc. (Switzerland), the global largest dermatology specialty pharmaceutical company. In Eri Clinic Omotesando, Dr. Eri by herself provides from counseling assessment to therapy consistently.
Dr. Eri Katagiri has received the special authorization from Mr. Leslow Rudy, CEO of Galderma Inc., vising Eri Clinic Omotesando.
"Dr. Eri`s True Lift" : example cases
The base of the whole face has been lifted up, and looks more younger with a sharp face

The face line has been more shaper, the smiling line has been smoother, and the corner of the mouth has been lifterd up;
looks 5 years old younger