"Regenerative Medicine / Stem Cell Therapy" Menu
Super Premium Stem Cell Therapy
Milk Teeth Dental Pulp Stem Cell Supernatant ("Exosome") Therapy
Eri Clinic Group provides Stem Cell Therapy according to the purpose of the patient by usage of Milk Teeth Dental Pulp Stem Cell Supernatant ("Exosome") Therapy by strategic alliance with the most reliable laboratory in Japan safely and efficiently.

Dental Pulp Cell is the nerve of the tooth which is in the core of the tooth, which is guarded by the stiff layer of the tooth, causing the gene not to be scared, and the cell which cannot be the cancer cell easily, therefore, include the healthy and a lot of high quality stem cells.
Dental Pulp Stem Cell has an advantage compared with well known Bone marrow-derived Stem Cell and Adipose-derived Stem Cell, because it can be safely and easily collected, isolated, and cultivated with donor`s low risk.
Additionally, because the stem cells tend to decrease rapidly with aging, the most appropriate dental pulp stem cells will be collected from baby teeth or wisdom teeth below 20 year old.
Eri Clinic is using only Milk Teeth Dental Pulp Stem Cell Supernatant ("Exosome") which includes more than 100 kinds of growth factors, cultivated from the milk teeth, having very high cell proliferation potency under the severe donor screening.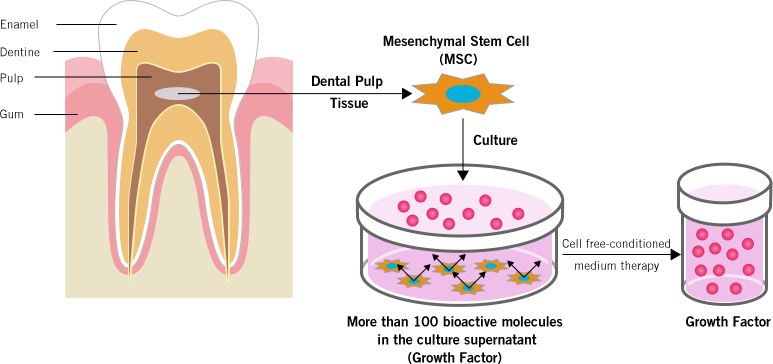 The main kinds and effects of the Growth Factor (the Cytokine) contained in Milk Teeth Dental Pulp Stem Cell Supernatant ("Exosome")
The kind of the Cytokine
The main effect
Vascular Endothelial Growth Factor : VEGF
The hair growth, the hair restoration
Epidermal Growth Factor : EGF and their Family
Improvement of pigmentation, dullness of the skin, the scarfskin turnover, and Prevention of the wrinkles
TheLeratunocyte Growth Factor : KGF
The hair growth, the hair restoration
Insulin-like Growth Factor : IGF
Skin reconstruction, implovement of the wrinkles, the reconstruction of the elasticity of skin and so on, and Hair restoration
Platelet-Derived Growth Factor : PDGF
The promotion of the cell division, the multiple – reconstruction of the damage organization
Transforming Growth Factor : TGF-β、TGF-α and their family
Antiinflammation, the healing of wound
Hepaticyte Growth Factor : HGF
The Anagenesis
Neutral Nutritional Factor
CNTF (The ciliary body neurotrophic factor)
Growth stimulation and acticvation of the trunk cell
GDNF (The glia cell stock origin neurotrophic factor)
Differentitation and growth of the nerve cell, capture and promition of dopamine
NGF (The nerve growth factor)
The synthesis – the promotion of the acetylcholine, the maintenance of the nerve cell, the restoration when damaging a cell, it prompt aging in the restoration in the cranial nerve and preventing Alzheimer disease – dementia
BDNF (The cerebral origin neurotrophic factor)
The prevention of the survival maintenance – the growth promotion, Alzheimer disease – the dementia of the nerve cell
Others
 
Treatment Method
[Offered] Milk Teeth Dental Pulp Stem Cell Supernatant ("Exosome") Therapy
Medication Method: Meso Therapy, Iontophoresis, Drip Infusion, Nasal Drip
Medication Method
Medication Method Quantity
■ Meso Therapy
Through direct injection into the skin and the scalp, etc., the active ingredient will be sent subcutaneously, which will cause a quick effect.
1Vial
■ Iontophoresis
By passing a subtle electric current, the active ingredient will be delivered to the depth of the skin.
1Vial
■ Drip Infusion
The active ingredient, injected into the direct vein, will act on the interior of the body directly.
1Vial
2Vial
3Vial
■ Nasal Drop (Home Care)
Stem Cell Culture Supernatant (Exosome), undiluted, will be used for home care through nasal drop.
1Vial
■ Undiluted solution
1Vial
[Owned] Milk Teeth Dental Pulp Stem Cell Supernatant ("Exosome") Therapy
Medication Method: Meso Therapy, Iontophoresis, Drip Infusion, Nasal Drip
Quantity of Vials
1mlx30(30sessions)
1mlx60(60sessions)
1mlx90(90sessions)