Medical Supplement / Chinese Herbal Medicine
Medical Supplement / Chinese Herbal Medicine
Provide supplements and herbs carefully selected by Dr. Eri!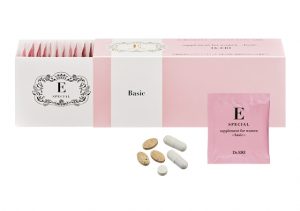 Basic supplement package for women 【30 packs】
Supports daily beauty by adding iron, collagen, alpha lipoic acid, basic vitamins and minerals.
In addition to synthetic vitamins & minerals, it combines collagen important for skin firmness and elasticity. Furthermore, alpha lipoic acid not only protects against oxidation but also supplements vitamin C and coenzyme Q10. There are also rich nutrients that are in great need of supplementing daily intake, such as folic acid and iron …
Take 1 capsule daily with water.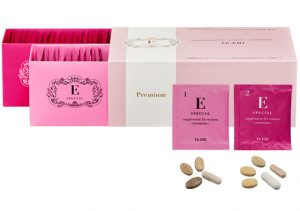 Advanced synthetic supplement package for women 【Advanced package 1, advanced package 2, 30 packs each】
Support immunity and make skin smooth by combining a variety of vitamins, minerals, lactic acid …
Advanced package 1 contains L-cystine which has a smooth, light skin effect, seven types include about 4 billion lactic acid bacteria (indicated when prepared) activating activity on the intestinal flora.Advanced pack 2 is formulated to reinforce the balance of female hormones, skin elasticity, whiten and firm skin thanks to a combination of vitamins and minerals. Which adds a variety of botanical, biotin and zinc extracts, is a powerful ally of those who want to be healthy and beautiful even after many years of age.
Recommend an advanced pack 1 in the morning, 2 advanced packs in the evening, please drink with water.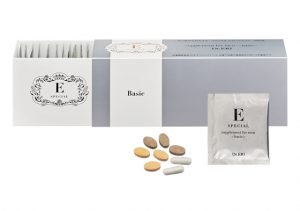 General supplement package for men 【30 packs】
Supporting when the body is tired, improving immunity taking into consideration taste and olfaction.
Basic supplements and minerals, vitamin B group to reduce fatigue, extract herbs and vegetables such as garlic, chlorella, spirulina and zinc. It is a combination of care to stabilize the nutritional balance for men who tend to lose the need in their diet.
Take 1 capsule daily with water.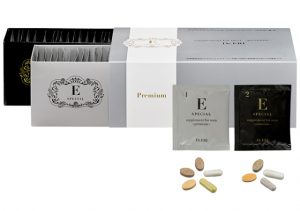 Advanced synthetic supplement package for men 【Advanced package 1, advanced package 2, 30 packs each】
In addition to vitamins and minerals, it also supports antioxidant and immunity by adding zinc, quercetin, etc.
Advanced pack 1 combines zinc and adds quercetin, very important to maintain taste and olfaction, enhance metabolism. Because men tend to supplement less quercetin from their diet, so it is important to continue to actively supplement from outside. Advanced package 2 adds arginine to increase muscle mass, and additional palmet support for menopause of men. Advanced package helps maintain a great life despite all age.
Recommend an advanced pack 1 in the morning, 2 advanced packs in the evening, please drink with water.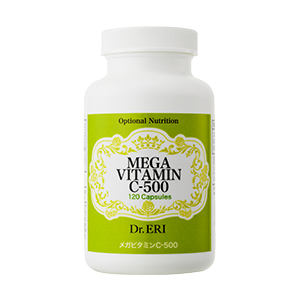 Mega Vitamin C 500【120 tablets】
Filled with high vitamin C!
Suitable for beautiful skin and good for health!
Supplement foods provide more high quality Vitamin C than other types on the market.
The special production method always keeps the capsules at Ph7, which helps the body to absorb in short time with long lasting effect.
This is an indispensable nutrient for anti-oxidant, boost collagen production, support the immune system, improve skin health and promote health.
Drink 2 capsules a day.
Indications: skin whitening, beauty skin, anti-aging, enhance immunity, enhance health.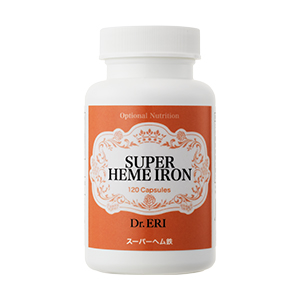 Heme Iron 【120 tablets】
Acne around the mouth, fatigue, tension
Recommended for pregnant women.
Food supplements for people with iron deficiency, especially women, are integrated Heme Iron quality which is superior to other products!
Iron promotes oxygen to the body, activates energy, promotes collagen formation, boosts immunity, is an indispensable nutrient for the health of the skin and hair, but iron is a component which is hardly absorbed in the body.
So we recommend that Heme iron that has 3 to 5 times higher fat absorption than non-heme iron content in plant foods such as green vegetables.It is very gentle on the stomach and intestines, so you will not have to worry about vomiting, constipation or diarrhea.
In addition, this product also includes folic acid, so it can be used to supplement women before and during pregnancy to help develop the fetus from an early stage.
Drink 4 capsules a day, drink with water.
Indications: prevention of rough skin, anti-aging, stimulate hair growth, promote health, weight loss, promote physical fitness for pregnant women.
リンク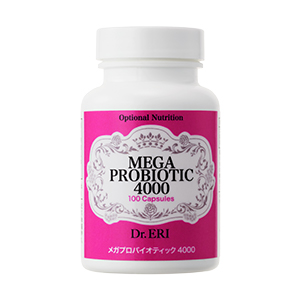 MegaProbiotics 4000(Supplement)
Provides more than 4 billion good living habits for the intestines!
Improve the intestinal environment, beauty and health!
This product is a supplement of with more than 4 billion good bacteria with freeze-dried process by special technology.
The good bacteria are surrounded by microcapsules to ensure that they do not dissolve before reaching the gut.
Fresh lactobacilli prepares the intestinal environment, enhances immunity, and makes a lively and healthy body.
Recommended for people who are stressed, who drink alcohol often, lack of exercise, eat too much meat or eat too sweet.
Directions for use: 1 day 3 tablets, drink with water.
Indications: improve intestinal environment, prevent skin roughness, anti-aging, improve health, lose weight
リンク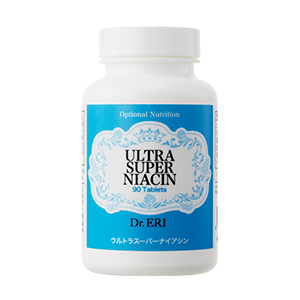 Ultra super niacin【90 tablets】
Allies of weight loss and prevention of diseases due to living habits.
Enhances energy metabolism and prevents neutral fat accumulation!
Niacin is a vitamin B that makes up the muscle and nerve cells, the "inositol" that promotes lipid metabolism and promotes blood circulation, also known as vitamin B3 to promote energy metabolism. Three major nutrients are carbohydrates, proteins and lipids.
That Niacin has been integrated into a high quality product!
Products that reduce fatty liver and high cholesterol are excellent products for those who want to lose weight, and those who eat fat regularly.
It also stimulates skin metabolism, so it is effective for prevention of spots and freckles, as well as prevention of hangover.
Directions: Take 1 to 3 capsules daily, drink with water.
Indications: weight loss, prevention of lifestyle-related diseases, whitening of the skin, prevention of hangover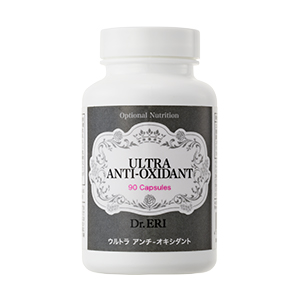 Ultra anti-oxidant【90 tablets】
Provide antioxidant ingredients before oxidation!
Supplements of high quality, high content, super strong!
Aging causes are very different, but having "active oxygen" is an important factor.
The active oxygen itself has benefits such as bactericidal action, but the surplus oxidizes the cell membrane, accelerates aging, and also causes various diseases.
Therefore, it is important to add antioxidants to suppress excessive oxygen activity.
This product is a powerful antioxidant that contains Pycnogenol, beta-carotene, vitamin C, vitamin E, B vitamins, niacin, flavonoids, which are much higher than other products!
As the latest food supplement, it is possible to obtain higher antioxidant efficacy by using it in combination with other products.
In addition, Pycnogenol has four basic characteristics: strong anti oxidant, anti-inflammatory effect, promote collagen formation and hyaluronic acid, vasodilator effects, so effectively improve the related diseases due to lifestyle and diseases of women, beautiful skin whitening, anti-dry skin …
Directions: Take 3 capsules daily, drink with water.
Indications: Anti-aging, improving tension, strengthening physical strength, improving skin quality, etc.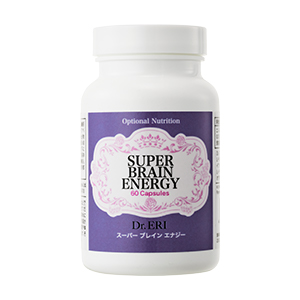 Supplement Super Brain Energy[60カプセル]
Infant adult brain.
Support the production of dopamine!
Maintain a state of the brain that helps you focus more vigorously.
Supplements support brain energy and promote the production of dopamine, a neurotransmitter.
The dopamine, one of the neurotransmitters working in the brain, affects the process of controlling emotional reactions such as mood and motivation, which is secreted when you are touched, moved or impressed with something.
If the amount of dopamine decreases or becomes excessive, the balance of the mind and body tends to collapse.
In addition to tyrosine and phenylalanine, which are the production components of dopamine, this product contains L-methionine and octacosanol, which alleviates stress and depressive symptoms, and Iwabenkei extract which increases mental and environmental stress tolerance, which helps to maintain the state of the brain that can concentrate on things.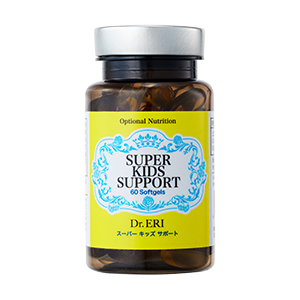 Supplements Super Kids Support[60gel]
Promote baby brain development! Includes high purity DHA and EPA for children!
【CUREFISH OIL TM】 is a high purity omega-3 fatty acid formulation that improves fatty acid uptake by up to 75% or more by using a special process utilizing supercritical carbon dioxide extraction.
Omega-3 fatty acids have been shown to help maintain cardiovascular health and other parts of the nervous system, eyesight and joints, which are recommended by many health authorities around the world.
In particular, DHA is an indispensable component for learning and visual development / maintenance functions and plays an important role in the development of children.
For children ages 10 and up.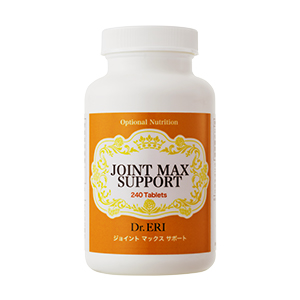 Supplement Joint Max Support[240カプセル]
Best bone care product!
Reinforce the components necessary for maintaining the health of articular cartilage, which decreases with intense exercise and aging!
In addition to the ingredients needed to maintain healthy articular cartilage "glucosamine" and "chondroitin sulfate," the product also contains White Willow Bark extract with anti-inflammatory, and well-balanced ingredients such as hyaluronic acid, a material that covers the cartilage surface.
Glucosamine is a component of cartilage, which is an important component for strengthening joints by filling the gaps between materials.
In addition, chondroitin sulfate has viscosity, and is water retention, which can provide moisture and elasticity for cartilage.
The number of components will gradually decline according to the speed of aging and movement. Glucosamine is present in shells of shrimp and crab, chondroitin sulfate is present in shark fin cartilage and seaweed, it is difficult to absorb these substances from daily meals, so should be supplemented with supplements.
Use to keep youthful and active!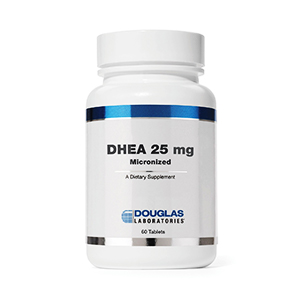 DHEA (stress relief support)【60 tablets】
Supplement that helps to absorb DHEA hormone the most in the body.
Helps boost the immune system while fighting stress hormones.
This is a natural ingredient extracted from Taro so customers can be assured when using the drug.
※ People over 40 do not need DHEA.
Pregnant women and lactating women should consult your doctor before use!
Directions for use: 1 tablet a day for breakfast.
Indications: Helps to relax, relieve symptoms of menopause.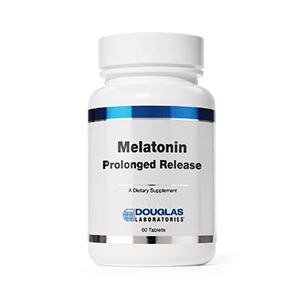 Melatonin PR (Hormone in the body to help you fall asleep)【60 tablets】
It is a supplement that supports lack of secretion of melatonin known as sleep hormone that brings about a natural sleep.
Melatonin is a hormone produced in the body and this hormone will decline with age and stress.
This product helps replenish the lack of melatonin and put the body into the right trajectory, reducing stress to help you sleep comfortably.
Since this is not a sleeping pill, there is no need to worry about side effects.
Directions: Take 1 capsule (depending on person) with cold water or warm water 30 minutes before bedtime.
Helio Care UltraD
【30 tablets】
UV protection & powerful sunblock pill!
The main ingredient is Fernblock®, which works to minimize skin damage or sunburn.
It also effectively reduces the risk of skin cancer.
Sunscreen is effective after 30 minutes when taken first and can still maintain effective after 2.5h. This has been proven in clinical trials.
It is not only effective in preventing sunburn but also effective in treating skin diseases.
How to use: Take 1 capsule before going to the sun for about 30 minutes.
In case of standing under the sun for long periods, take 1 capsule every 4 hours.
Also take 1 capsule every morning as a supplement.
※ In case of difficulty drinking, drink with fruit juice or yogurt.
Related treatments